Common Questions about Combat Skirmish Laser Tag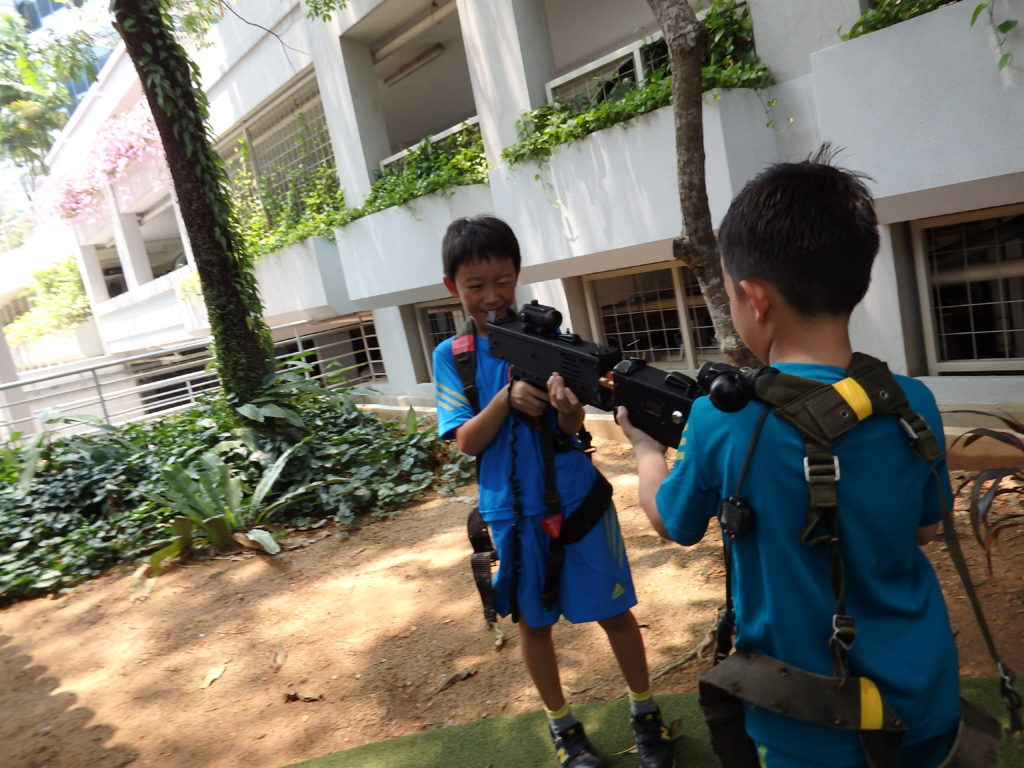 How do you know when you get shot?
All our guns come with a built-in electronic feedback system. Each time a player gets shot, the gun will produce a whizzing sound and your sensors will blink.
What happens when it rains?
The laser tag game can still proceed in light rain conditions. In the case of a heavy downpour, we will seek shelter and wait for the rain to subside before continuing. If the shelter has enough space, we can conduct some static games there.
What happens if I want to postpone the event?
You can postpone the event anytime as long as you inform us at least 72 hours in advance. If you really have to postpone within the 72 hours, there will be a minimum charge of $200 for labour and logistics that were originally catered for the session.
Do you have first-aid trained facilitators on site?
Yes we do. There will be at least 1 first-aid trained facilitator on-site.
If I want to extend an additional mission on the spot, will you be able to do that?
This will be subjected to our schedule for the day. If we have enough time, we would definitely accommodate to your request. However, to avoid disappointment, it is best if you cater enough missions for your booking, 3 missions or more would be good!
What are the payment terms?
We only accept cash or cheque payment.
Where should I send my deposit to?
You can mail your cheque deposits to 18 Boon Lay Way #1-100, Singapore 609966
Why does a Combat Skirmish session cost so much?
You pay for what you get. Combat Skirmish has been around ever since 2005. That is 12 years of experience in the laser tag industry. Over the years, we have conducted thousands of Combat Skirmish laser tag sessions – Birthday parties, corporate gatherings, family carnivals, etc. We'd be able to deliver as per your requests.
Our guns are realistic and equipped with the latest technology. They not only look like real guns but are also designed to function like one (without bullets of course!)
Can we play Combat Skirmish at the address reflected on the website?
Yes, however it is not the only location you can play at. We do have weekday laser tag sessions available at a discounted rate if you play at the address reflected on our website. However, many of our clients make use of the fact that we are mobile and thus able to bring Combat Skirmish laser tag to a place of your convenience.
Do you cater food for parties?
Unfortunately, we do not provide food catering. However, we do have drink packages that consists of chilled canned drinks and bottled water. Just let us know if you'd like to add on a drinks package to your Combat Skirmish laser tag booking.
Other than Combat Skirmish laser tag games, what else can I do?
We offer a few other fun and interesting activities under our umbrella. You can visit www.zovbsg.com , www.laserclay.com.sg, www.onedteambuilding.com or www.adventour.com.sg for more information!
Can you do an overseas program?
Yes we are able to, unfortunately without the guns as foreign customs will probably alert their whole police force if they see crates of guns being brought into their country. You can visit One Dynamics to enquire more about overseas programs.
Where do you usually play Combat Skirmish?
Combat Skirmish laser tag is mobile! That's why we can play laser tag in houses, condominiums, offices and parks. Just let us know which area is convenient for you and we'd be able to propose a few suitable nearby locations.
Is it just brainless shooting during a typical game?
Of course not! We have a variety of missions to pick from and each mission is designed for the different purpose of team building or bonding programs. Missions range from the simple, loaded with lots of visible actions, to stealth, where certain key objectives need to be fulfilled.
Are the equipment heavy?
No, absolutely not! All you're wearing is a light-weight harness with sensors attached and the gun of course. No protective gear is required, hence you can play in comfort. Our youngest independent player so far is aged 5. Everybody else shouldn't have a problem then!
I've played Laser Quest before. The weapons don't work that well even in dark rooms. Can you guns shoot that far in broad day light?
Forget about laser quest. Our laser tag equipment is far more sophisticated and advanced. We take pride in providing top class equipment for our players. Please visit our laser tag weapons page for more information about the gun equipment we carry.
Do you have group discounts?
Yes we do have group discounts! The are applicable for groups with 50pax and above.
Do you need to be very fit to play Combat Skirmish?
During the laser tag game, the player would be in control of how much he or she would want to physically exert themselves. You are free to do plenty of running and attacking or simply stay behind to defend your team. Just as long as you're contributing team effort, that's great!
Do you register individual scores?
We are able to do that, but we rather not. We believe that Combat Skirmish should be a team sport and everyone should work together as a team to achieve goals and objectives. Having individual scores defeat the purpose of team games as everyone would focus on their individual performances instead.
How many people can you cater for at one go?
We have more than 100 guns currently and can support up to 400 people.
I am an events company and would like to engage your services to run team building programs for my clients. Do you provide that?
Sure! Just drop us an email and we will provide you with the necessary details you need to inform your clients.
Can pregnant women play Combat Skirmish too?
There are no hard and fast rules on this. We have had some pregnant ladies wanting to take part in our laser tag games because they simply can't resist the fun. However, we'd advise them to consider carefully before playing. Do note that Combat Skirmish will not bear any responsibility should any mishaps occur.
I understand that you organize parties for kids. Do you do Adult parties too? I want to organize a surprise Combat Skirmish Party for my husband.
Yes of course, we do adult parties too!
What is the minimum number of people required to place a booking? I only have 7 people including myself, can we still play Combat Skirmish?
We need a minimum of 10 pax to start a private booking. If your numbers fall short of that and would still like to play laser tag, you can either pay for 1o pax and proceed with a private booking or simply join our weekday mania or better yet, head down to our newest attraction, Combat Skirmish Live to play Combat Skirmish.
Can we engage Combat Skirmish Staff to play against my team? I want to pitch my team's tactics with you guys!
Sure you can! Just book for your number of players and let us know how many opponents (us) you would like to have. It'll be even better if you can name some of the familiar faces whom you know. All of which would be subjected to their availability. Additional charges apply.
How long do we have to book in advance?
Our bookings are based on a first come first serve basis and we are usually very busy over Fridays, Saturdays and Sundays. You might like to book a slot as early as you possibly can.
How long does each mission last?
Each normal mission lasts about 15 to 20 minutes. Customized advanced missions might have a different duration.